How may we serve you?
We can customize for you
Traditional Service
This is the type of funeral arrangement most often selected. It includes all of our services, automotive equipment, visitation at the Funeral Home and funeral ceremony at the funeral home or church of your choice.
Graveside Service
All of the options listed under traditional services, except that the funeral ceremony is held at the place of burial.
Memorial Service
A memorial service is one in which the body is not present. It may be held in our chapel or at the location you choose.  
Facilities
Our current building, a traditional brick was constructed in 1972 and has been remodeled several times since then. The attractive entrance lobby offers comfortable seating areas for those waiting for family members to arrive or for friends to gather during a visitation. The lobby leads to the peaceful chapel, located on the east side of the building and used for many services. The chapel will accommodate 200 people and is the location for our annual memorial services. If a family prefers not to sit in the chapel during the funeral service, there is private family room available. There are two receiving rooms where caskets are placed for visitations with adjacent rooms where the families may greet friends.  In addition to the front entrance, there is a florists' entrance at the back and both are handicap accessible, as are the rest rooms.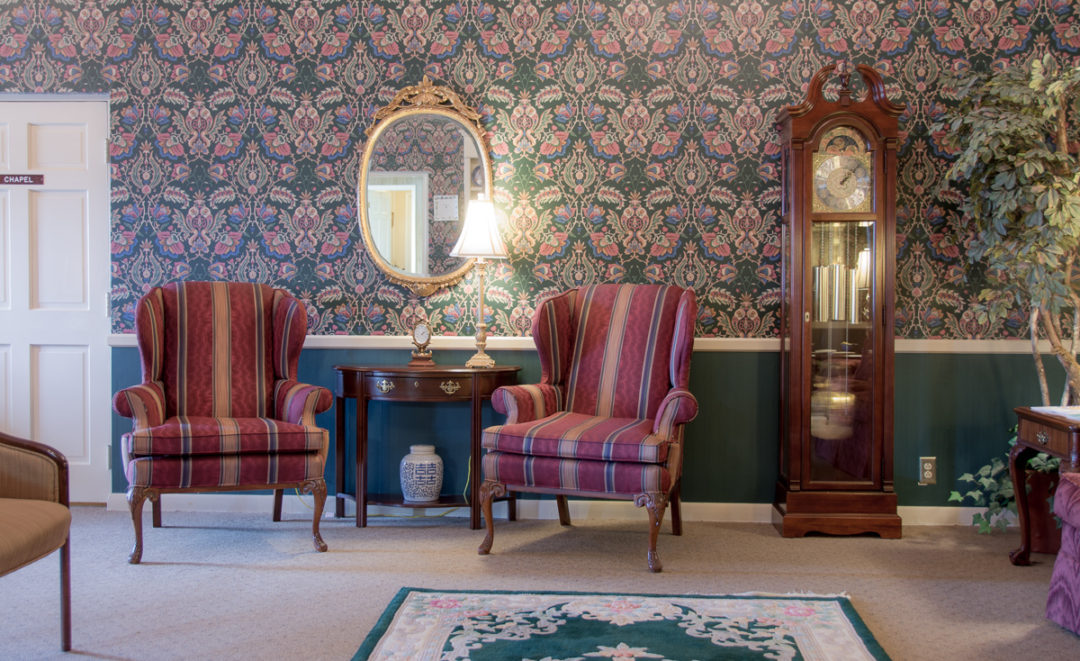 Pre-planning
A wise decision, a true gift to your family. Pre-planning your own funeral is not easy to do. We are here to help and assist you with the arrangements you desire- without having to pay in advance.
Pre-funding
Pre-funding your funeral is an option you may want to consider. We have several ways to pre-fund your arrangements. We will meet with you in your home or at the funeral home to answer your questions and explain the various options available and best suited to your needs.
Visitation
The visitation, an opportunity for friends to offer their condolences, is another area where local customs seem to be changing. Some families are opting for a visitation just before or after the service, which is more convenient to out of town family members than the traditional "night before the service". The time and location of a visitation can and should be chosen to meet the individual needs of your family. Williamsburg Funeral Home offers its facilities at either time you wish or you may choose to have a visitation at a church or individual's home.
Caskets
Caskets are available in a vast array of materials, colors and styles. Metal caskets can be steel, copper or bronze. Wood caskets available are pine, poplar, oak, pecan, cherry, mahogany, cedar, sycamore or maple and all can be personalized to fit your individual preferences. There are even caskets designed for specific interests such as professional or college team sports, western or patriotic themes, or occupations. These occupations or professions might include farming, fire service, or military service. There is an abundance of personalization options available in caskets. A price list of all caskets is available at the funeral home. Sumter Casket Company
Outer Burial Containers
No South Carolina state law requires you to purchase a burial vault. However, many cemeteries now require a "substantial outside container". A grave liner or a sealing vault will satisfy their requirement. A price list of all outer burial containers is available at the funeral home. Doric Burial Vaults
Pet Assistance
We all know the importance of the pets in our lives. The death of a beloved pet is sometimes a crushing blow. If you would like your pet to have a casket and/or vault for burial or a grave marker, we can help you with those. In addition, we also offer certified pet cremation services.
Cremations and Urns
We offer a wide variety of cremation options. You may choose one or several of the options listed above such as viewing, visitation, and a funeral service or you may choose direct cremation with a memorial service. Urns, like caskets, are available in a vast array of materials and designs with even more materials and personalization offered. Most urns can be engraved with names, dates or other information. Many urns are artistic in design such as cloisonné or sculptures. You may even purchase keepsake jewelry that serves as an urn.
Personalization
There are innumerable ways to memorialize a loved one. We pointed out the personalization available in caskets and urns on previous pages. Some families choose to celebrate the life of their loved one by creating a very personalized funeral service or visitation. For the funeral service there might be personal stories told by family members or friends. The visitation might be individualized by the display of family photos, awards or handiwork of the deceased such as quilts, knitting or carvings. Our sound system may play your loved one's favorite music in the background. As you can see, personalization is limited only by the imagination. The staff at Williamsburg Funeral Home will assist you in displaying your photos and treasures or playing your music.  You may also choose to display your photos on a digital picture frame that we have available. For a nominal fee we can have a keepsake photo DVD created with pictures and music of your choice. This video can be played during the visitation or before or during a funeral service. Extra copies can be purchased for other family members.
Let us know how we can serve you.